View the Catalogue 2015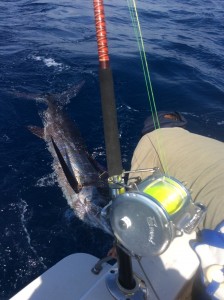 Everol can be ordered in a custom colour – What is your favorite?
Since 1958 Everol has been hand crafting the best game fishing reels available in the world!
With a comprehensive range specializing in the Offshore Game Fishing market – Everol will outperform and outlast the rigors of what you can throw at them! Whether it is trolling for Marlin or jigging for reef fish Everol have the best components that are built to last!
About Everol……..
Everol is an Italian company that has been building exquisite, finely machined trolling reels since 1958 when the company started building reels that were up to the task of battling the giant Bluefin tuna of the Mediterranean. Everol's reels are built with only the best anodized and stainless materials to withstand the rigors of big-game fishing and the insidious salt water environment, but
As a big billfish, tuna, wahoo or GT's peel line off a reel the laws of physics dictate that even without touching the drag lever the drag has increased due to the progressive reduction in the diameter of line on the spool. With other offshore reels, once line is in the water, it is anyone's best guess as to what the effective drag setting has become due to this phenomenon (regardless of whether an accurate initial drag setting was taken on a scale). What really sets Everol apart from its competition is the unique and unrivaled Everol drag system; Everol has incorporated this system into their reels for the last 42 years and it has yet to be duplicated.
Everol's system gives anglers a clear picture of what the effective drag has become allowing anglers to purposefully adjust their drag rather than fiddling with it haphazardly.
Everol's system works as follows: There are three scales on the side of the reel which correspond to the amount of line on the spool as indicated by notches on the spool itself. The outermost, largest number represents a full spool, the middle, medium-sized number represents a half spool, and the innermost, smallest number represents an almost empty spool. As an example, a 6/0 Everol set with 14 lbs of initial drag, would have an increased drag setting equal to 21 lbs when half spooled. The benefits inherent in this system are clearly evident, but become even more pronounced when fishing light line or when possible records are at stake. As for the drag mechanism itself, Everol incorporates a silky smooth, forced air cooled, multi-disc stainless steel and carbon fiber drag system.
For those who have grown accustomed to a preset drag, Everol has introduced the stellar Waterproof Series. These reels feature an internally sealed disc drag which protects the double sided drag washers from the corrosive salt water environment. These reels are very lightweight yet strong, and, like the Special Series, they too are available in either right or left hand retrieve.
Everol is truly a legendary name in sport fishing and will continue to be for many years to come. Everol definitely delivers on both value and performance and we hope that you will take the time to check out the full line of Everol reels at www.everol.com.au or ask us for a dealer near you.
See you out there,
| | | | |
| --- | --- | --- | --- |
| Size | Line capacity (Yards) | Ratios | Weight (Kg) |
| 2.5/0 | 1100/12 700/20 | 1 : 3,7 | 1,350 |
| 4/0 | 800 / 20 650/30 | 1 : 3,7 | 1,450 |
| 6/0 | 1000/30 650/50 | 1 : 2,9 | 1,900 |
| 6/0W | 1100/50 620/80 | 1 : 2,9 | 2,050 |
| 7.5/0 | 850/50 500/80 | 1 : 2,9 | 2,900 |
| 9/0 | 700/80 500/130 | 1 : 2,9 | 3,000 |
| 9/0W | 900/80 650/130 | 1 : 2,9 | 3,300 |
| 12/0 | 1000/80 700/130 | 1 : 2 | 3,800 |
| 14/0 | 1000/130 | 1 : 2 | 4,500 |
| 18/0 | 1350/130 | 1 : 2 | 4,700 |
Comparison Chart – Size & Line Class
| | | | | | | | | |
| --- | --- | --- | --- | --- | --- | --- | --- | --- |
|  Comparison Chart  | Everol / Shimano / Penn | | | | | | | |
| | | | | | | | | |
| Shimano Product Code | Mono Line Capacity (#Test/yd) | | Everol Product Code | Mono Line Capacity (#Test/yd) | Everol Product Code | Mono Line Capacity (#Test/yd) | Everol Product Code | Mono Line Capacity (#Test/yd) |
| | | | | | | | | |
| Tiagra 12 |  12/880,16/650,20/460 | | Everol T-Shot 20 | 20/350 | | | | |
| Tiagra 16 |  16/980,20/670,30/430 | | Everol T-Shot 30 | 30/550 | Everol 2,5/0 SP | 30/450 | | |
| Tiagra 20A |  20/690 | | Everol T-Shot 30 | 30/550 | Everol 2,5/0 SP | 30/450 | | |
| Tiagra 30A |  30/700 | | Everol 4/0 SP | 30/650 | | | | |
| Tiagra 50A |  50/600 | | Everol T-Shot 50 | 50/650 | Everol 6/0 SP | 50/650 | | |
| Tiagra 50WA |  50/850 | | Everol 6/0 SP Wide | 50/1100 | | | | |
| Tiagra 50WLRSA |  80/550 | | Everol T-Shot 80 | 80/700 | Everol 6/0 SP Wide | 80/650 | Everol 7,5/0 SP | 80/600 |
| Tiagra 80WA |  80/950 | | Everol 9/0 SP Wide | 80/900 | Everol 12/0 SP | 80/1000 | | |
| Tiagra 130A |  130/1000 | | Everol 14/0 SP | 130/1000 | | | | |
| Tiagra 30WLRSA |  50/570 | | Everol T-Shot 50 | 50/650 | Everol 6/0 SP | 50/650 | | |
| | | | | | | | | |
| | | | | | | | | |
| Penn Product Code | Mono Line Capacity (#Test/yd) | | Everol Product Code | | Everol Product Code | | | |
| | | | | | | | | |
| International 16VS | 1025/16 700/20 480/30 | | Everol T-Shot 30 | 30/550 | Everol 2,5/0 SP | 30/450 | | |
| International 30VSW | 900/30 550/50 480/60 | | Everol T-Shot 50 | 50/650 | Everol 6/0 SP | 50/650 | | |
| International 50VSW | 825/50 725/60 525/80 | | Everol 6/0 SP Wide | 50/1100 | | | | |
| International 70VS | 650/80 525/100 420/130 | | Everol 7,5/0 SP | 80/600 | | | | |
| International 80VSW | 950/80 875/100 700/130 | | Everol 9/0 SP Wide | 80/900 | | | | |
| International 130VSX | 975/130 | | Everol 14/0 SP | 130/1000 | | | | |